INTERNATIONAL FREIGHT SERVICES AVAILABLE FROM CARGOMASTER™
INTERNATIONAL SHIPPING SERVICES
International freight and shipping services are global transportation services, normally offered by professional international freight forwarders . The services consist of arranging the international movement of cargo to and from international destinations. International freight forwarders are experts at organizing and monitoring all relevant activities pertaining to international sea freight services.

INTERNATIONAL SEA FREIGHT SERVICES
LESS THAN A CONTAINER LOAD (LCL)
CargoMaster offers international sea freight consolidation services (LCL) the most cost effective way to move shipments that do not require a 20ft container from Sydney, Melbourne, Brisbane, Perth and Adelaide (sea freight from other locations and remote locations can be collected and consolidated at the closest capital city) , Vessels sail weekly from all Australian capital cities. Less than a container load sea freight is charged at a per cubic meter rate or actual weight whichever is greater. All shipments have a minimum charge of 1 cubic meter, no matter how small your shipment is. If your consignment is small it may be a better idea to consign your goods by air freight.
All LCL shipments will need to have a packing list and all pieces (or boxes)  should be numbered and labelled "fragile" (if required). CargoMaster is able to pick up your LCL shipment from almost anywhere in Australia. Once collected your goods are transported to a consolidation warehouse and consolidated with other consignments. Most LCL cargo is transshipped in Singapore. LCL shipping requires more handling than FCL shipping and as such you should package your shipment well for international transportation. Boxes that are 15-20kg are easily handled and help to save the container packers backs too!
FULL CONTAINER LOAD (FCL )
CargoMaster provides a full range of sea freight equipment to move your goods quickly ,safely and cost effectively.
"What FCL or shipping equipment options do i have?
20ft SHIPPING CONTAINER: Your smallest LCL option is a 20ft container offering 30 cubic meters of space and approx
40ft SHIPPING CONTAINER: A 40′ shipping container offers approx 60 cubic meters of space and approx 28 ton weight limit.
20ft OPEN TOP SHIPPING CONTAINER: same as 20′ above
40ft OPEN TOP SHIPPING CONTAINER: same as above 40′
40ft HIGH CUBE SHIPPING CONTAINER: Holds approx 76 cubic meters and about 30cm higher than a standard 40′ shipping container.
20ft FLAT RACKS
40ft FLAT RACKS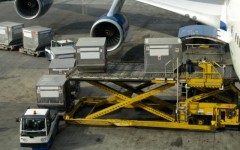 INTERNATIONAL AIR FREIGHT SERVICES
CargoMaster offers both consolidated air freight services and (depending on the destination required), direct international air freight services.
International air freight consolidation services are available from all Australian capital cities, however Brisbane, Adelaide and Perth may be uplifted via Sydney or Melbourne international gateways. CargoMaster will organize the collection of your consignment from almost anywhere in Australia.
It is important to ensure your consignment is not classified as HAZ cargo, so its a good idea to call CargoMaster to find out more about Air Transportation and HAZ cargo. Important to remember to make sure your goods are well packaged for international transport, clean and  free of oil and dust  and clearly addressed and labelled.
International Shipping specialist, CargoMaster uses sophisticated technology and proven operational procedures to provide smooth international air shipping of your goods throughout the world. This is why they guarantee your goods are being handled by a team of experienced international freight services specialists.
CargoMaster offers low cost self-pack international shipping containers for anyone moving overseas. Self Pack Moving Containers are a great way to relocate overseas, Self Pack International Moving Containers are available Australia wide
FAQ ABOUT INTERNATIONAL SHIPPING SERVICES
"What is the cheapest way to ship international"
"If you are not to concerned about the transit time the cheapest mode of shipping is sea freight. Shipping by sea freight is cost effective, vessels sail weekly from all Australian capital cities to most of the worlds major centers"
"How much is international Freight"
"The cost to transport international freight will depend on the following"
The Commodity you intend to ship internationally
The destination of the goods that you intend to ship
The origin of the goods
The size and weight of the cargo
The mode of transport you decide to use
"How do you calculate freight cost per kilo"
"To calculate the cost per kilogram you will need to know the actual weight of the goods and the dimensions of the goods. When calculating the cost per kilo you will need to check to see if your goods are chargeable at the actual weight or volumetric weight, whichever is greater is the chargeable weight. Costs per kilo usually refer to air freight"
"Which carrier is best for international shipping"
" One of Australia's most trusted international shipping companies is CargoMaster. With over 35 years transportation experience you know your goods are in safe hands"
"How do I arrange international shipping"
"Very easy really. Firstly you must decide how you would like to transport the goods, air freight or sea freight. You should then ensure your cargo is well packaged and clearly addressed and if more than one piece you should number each piece. All you need to do now is call CargoMaster. The team at CargoMaster will organise collection of your goods and lodge with the appropriate carrier"
"How much does it cost to send an international package"
"The cost to send an international package will depend on the mode of transport you decide to use. The commodity type and destination of the intended shipment will also influence the cost. If the goods are urgent then air freight is your best option ,however the cost of air freight is more than sea freight. If you have large heavy cargo and time is not an issue then sea freight is your best option"
"What documents are needed for international shipping"
"If you are international shipping by air freight the minimum documentation required will be an invoice, packing list and airway bill. In relation to sea freight you will require an invoice, packing list and seaway bill. Different countries and commodities require various other documentation. Call CargoMaster if you would like to know more"
"Is it hard to ship internationally"
"No not at all. Its easy really all you need to do is contact an experienced Freight Forwarder like CargoMaster"
"What items Cannot be shipped internationally"
"Most items can be shipped internationally. All countries have different regulations in relation to what can and cannot be imported. Goods like firearms for example, can be shipped but must be accompanied by specific documentation".
INTERNATIONAL AIR FREIGHT CHARTER SERVICES
CargoMaster offers a wide variety of aircraft types and works with Aircraft operators based in Australia, the USA, The UK and Germany. If you are in need of Air Freight Charter services, Australia wide or from anywhere in the world (with a runway) back to Australia call CargoMaster we can help!
As a leading freight forwarder and provider of international sea freight services including domestic air freight services, you can be assured that their comprehensive range of cost effective air freight and sea freight services will be capable of meeting the demands of any international freight projects.
CargoMaster works through a worldwide web of established freight forwarders, and delivers weekly consolidation services (air freight and sea freight) from all of the world's major centres.
Shipping daily from all Australian capital cities
CargoMaster offers with all international freight services:
Economic and competitive international shipping rates
Experienced a highly trained, and qualified, customer focused team
International freight network of established freight forwarders
Technologically advanced 'HI TECH' solutions
Track and trace options
Comprehensive door to door freight insurance protection
Accredited aviation security agent
Contact the experienced and friendly staff at Australia's favourite freight forwarders to discuss your business' import and export needs, and receive a no obligation free quote.
INTERNATIONAL SHIPPING SERVICES
"RED HOT CONTAINER DEALS FROM AUSTRALIA"
INTERNATIONAL FREIGHT FORWARDERS
Click one of the links below to access your carriers' air freight tracking page
| City | Country | Airport code |
| --- | --- | --- |
| Albany | US | ALB |
| Albuquerque | US | ABQ |
| Anguilla | Anguilla | AXA |
| Antigua | Antigua and Barbuda | ANU |
| Antofagasta | Chile | ANF |
| Arica | Chile | ARI |
| Aruba | Aruba | AUA |
| Asuncion | Paraguay | ASU |
| Atlanta | US | ATL |
| Austin | US | AUS |
| Baltimore | US | BWI |
| Barcelona | Venezuela | BLA |
| Baton Rouge | US | BTR |
| Belize City | Belize | BZE |
| Belo Horizonte | Brazil | CNF |
| Birmingham | US | BHM |
| Bogota | Colombia | BOG |
| Bristol | US | TRI |
| Buenos Aires | Argentina | BUE/EZE |
| Buffalo | US | BUF |
| Burlington | US | BRL |
| Calgary | Canada | YYC |
| Cancun | Mexico | CUN |
| Cap Haitien | Haiti | CAP |
| Caracas | Venezuela | CCS |
| Cedar Rapids | US | CID |
| Charleston | US | CHS |
| Charlotte | US | CLT |
| Chicago | US | ORD |
| Cincinnati | US | CVG |
| Cleveland | US | CLE |
| Columbia | US | CAE |
| Columbus | US | CMH |
| Cordoba | Argentina | COR |
| Corpus Christi | US | CRP |
| Curacao | Antilles | CUR |
| Curitiba | Brazil | CWB |
| Dallas | US | DFW |
| Dayton | US | DAY |
| Denver | US | DEN |
| Des Moines | US | DSM |
| Detroit | US | DTW |
| Dominica | Dominica | DOM |
| El Paso | US | ELP |
| Fort Da France | Martinique | FDF |
| Freeport | Bahamas | FPO |
| Georgetown | Guyana | GEO |
| Grand Cayman | Cayman Islands | GCM |
| Greensboro | US | GSO |
| Greenville | US | GSP |
| Grenada | Grenada | GND |
| Guadalajara | Mexico | GDL |
| Guatemala City | Guatemala | GUA |
| Guayaquil | Ecuador | GYE |
| Harrisburg | US | MDT |
| Hartford | US | BDL |
| Houston | US | IAH |
| Huntsville | US | HSV |
| Indianapolis | US | IND |
| Iquique | Chile | IQQ |
| Jackson | US | JAN |
| Jacksonville | US | JAX |
| Kansas City | US | MCI |
| Knoxville | US | TYS |
| Lafayette | US | LFT |
| Laredo | US | LRD |
| Lima | Peru | LIM |
| Little Rock | US | LIT |
| Louisville | US | SDF |
| Manaus | Brazil | MAO |
| Maracaibo | Venezuela | MAR |
| Mcallen | US | MFE |
| Medellin | Colombia | MDE |
| Memphis | US | MEM |
| Mendoza | Argentina | MDZ |
| Merida | Mexico | MID |
| Mexico City | Mexico | MEX |
| Miami | US | MIA |
| Milwaukee | US | MKE |
| Minneapolis | US | MSP |
| Mobile | US | MOB |
| Moline | US | MLI |
| Monterrey | Mexico | MTY |
| Montevideo | Uruguay | MVD |
| Montreal | Canada | YUL |
| Nashville | US | BNA |
| Nassau | Bahamas | NAS |
| Nevis | St Kitts and Nevis | NEV |
| New Orleans | US | MSY |
| Newburgh | US | SWF |
| Norfolk | US | ORF |
| Oak Harbor | US | ODW |
| Oklahoma City | US | OKC |
| Omaha | US | OMA |
| Ottawa | Canada | YOW |
| Panama City | Panama | PTY |
| Pensacola | US | PNS |
| Philadelphia | US | PHL |
| Phoenix | US | PHX |
| Pittsburgh | US | PIT |
| Pointe-A-Pitre | Guadaloupe | PTP |
| Porlamar | Venezuela | PMV |
| Port Au Prince | Haiti | PAP |
| Port of Spain | Trinidad | POS |
| Portland | US | PDX |
| Porto Alegre | Brazil | POA |
| Providenciales | Turks & Caicos | PLS |
| Puerto Plata | Dominican Republic | POP |
| Punta Arenas | Chile | PUQ |
| Quito | Ecuador | UIO |
| Raleigh Durham | US | RDU |
| Richmond | US | RIC |
| Rio De Janairo | Brazil | RIO |
| Rochester | US | ROC |
| Sacramento | US | SMF |
| Salt Lake City | US | SLC |
| San Antonio | US | SAT |
| San Diego | US | SAN |
| San Jose | Costa Rica | SJO |
| San Juan | Puerto Rico | SJU |
| San Luis Potosi | Mexico | SLP |
| San Pedro Sula | Honduras | SAP |
| San Salvador | El Salvador | SAL |
| Santiago | Chile | SCL |
| Santiago | Dominican Republic | STI |
| Santo Domingo | Dominican Republic | SDQ |
| Sao Paulo | Brazil | GRU |
| Seattle | US | SEA |
| St Croix | US Virgin Islands | STX |
| St Kitts | St Kitts | SKB |
| St Louis | US | STL |
| St Lucia | St Lucia | UVF |
| St Maarten | St Maarten | SXM |
| St Thomas | Virgin Islands | STT |
| St Vincent | St Vincent | SVD |
| Syracuse | US | SYR |
| Tampa | US | TPA |
| Tegucigalpa | Honduras | TGU |
| Tobago | Tobago | TAB |
| Toledo | US | TOL |
| Toronto | Canada | YYZ |
| Tortola | Virgin Islands | EIS |
| Tucson | US | TUS |
| Tulsa | US | TUL |
| Valencia | Venezuela | VLN |
| Vancouver | Canada | YVR |
| Viracopos | Brazil | VCP |
| Vitoria | Brazil | VIX |
| Wilmington | US | ILM |
| Adelaide | Australia | ADL |
| Ahmedabad | India | AMD |
| Auckland | New Zealand | AKL |
| Bagram | Afghanistan | OAI |
| Bangalore | India | BLR |
| Bangkok | Thailand | BKK |
| Beijing | China | PEK |
| Brisbane | Australia | BNE |
| Cairns | Australia | CNS |
| Canberra | Australia | CBR |
| Changchun | China | CGQ |
| Changsha | China | CSX |
| Chengdu | China | CTU |
| Chennai | India | MAA |
| Chongquing | China | CKG |
| Christchurch | New Zealand | CHC |
| Colombo | Sri Lanka | CMB |
| Dalian | China | DLC |
| Dhaka | Bangladesh | DAC |
| Dongguan | China | DGM |
| Fuzhou | China | FOC |
| Gold Coast | Australia | OOL |
| Guangzhou | China | CAN |
| Guilin | China | KWL |
| Hangzhou | China | HGH |
| Harbin | China | HRB |
| Hefei | China | HFE |

| City | Country | Aiport code |
| --- | --- | --- |
| Aberdeen | UK | ABZ |
| Abu Dhabi | UAE | AUH |
| Addis Ababa | Ethiopia | ADD |
| Alicante | Spain | ALC |
| Almaty | Kazakhstan | ALA |
| Almeria | Spain | LEI |
| Amman | Jordan | AMM |
| Amsterdam | Netherlands | AMS |
| Antalya | Turkey | AYT |
| Antwerp | Belgium | ANR |
| Arrecife/Lanzarote | Spain | ACE |
| Baghdad | Iraq | BGW |
| Bahrain | Bahrain | BAH |
| Baku | Azerbaijan | BAK |
| Balad | Iraq | XQC |
| Barcelona | Spain | BCN |
| Basel | Switzerland | BSL |
| Beirut | Lebanon | BEY |
| Belfast | UK | BFS |
| Bergen | Norway | BGO |
| Berlin | Germany | BER |
| Billund | Denmark | BLL |
| Birmingham | UK | BHX |
| Bishkek | Kyrgyzstan | FRU |
| Bordeaux | France | BOD |
| Bournemouth | UK | BOH |
| Bratislava | Slovakia | BTS |
| Bremen | Germany | BRE |
| Bristol | UK | BRS |
| Brussels | Belgium | BRU |
| Bucharest | Romania | OTP |
| Budapest | Hungary | BUD |
| Cairo | Egypt | CAI |
| Cardiff | UK | CWL |
| Cologne | Germany | CGN |
| Copenhagen | Denmark | CPH |
| Cork | Ireland | ORK |
| Dalaman | Turkey | DLM |
| Damascus | Syria | DAM |
| Dammam | Saudi Arabia | DMM |
| Dar Es Salaam | Tanzania | DAR |
| Doha | Qatar | DOH |
| Dublin | Ireland | DUB |
| Durban | South Africa | DUR |
| Dusseldorf | Germany | DUS |
| East Midlands | UK | EMA |
| Edinburgh | UK | EDI |
| Entebbe | Uganda | EBB |
| Erbil | Iraq | EBL |
| Exeter | UK | EXT |
| Frankfurt | Germany | FRA |
| Fuerteventura | Spain | FUE |
| Geneva | Switzerland | GVA |
| Gibraltar | Gibraltar | GIB |
| Glasgow | UK | GLA |
| Gothenburg | Sweden | GOT |
| Guernsey | Channel Islands | GCI |
| Hamburg | Germany | HAM |
| Hanover | Germany | HAJ |
| Helsinki | Finland | HEL |
| Humberside | UK | HUY |
| Ibiza | Spain | IBZ |
| Inverness | UK | INV |
| Isle of Man | UK | IOM |
| Istanbul | Turkey | IST |
| Jeddah | Saudi Arabia | JED |
| Jersey | Channel Islands | JER |
| Juba | Sudan | JUB |
| Kigali | Rwanda | KGL |
| Kuwait | Kuwait | KWI |
| Larnaca | Cyprus | LCA |
| Las Palmas | Spain | LPA |
| Leeds Bradford | UK | LBA |
| Leipzig | Germany | LEJ |
| Lille | France | LIL |
| Liverpool | UK | LPL |
| Ljubljana | Slovenia | LJU |
| Luxembourg | Luxembourg | LUX |
| Lyons | France | LYS |
| Madrid | Spain | MAD |
| Malaga | Spain | AGP |
| Malmo | Sweden | MMA |
| Malta | Malta | MLA |
| Manchester | UK | MAN |
| Marseilles | France | MRS |
| Mauritius | Republic of Mauritius | MRU |
| Menorca | Spain | MAH |
| Milan | Italy | MIL |
| Mombasa | Kenya | MBA |
| Moscow | Russia | SVO/DME |
| Munich | Germany | MUC |
| Murcia | Spain | MJV |
| Muscat | Oman | MCT |
| Mwanza | Tanzania | MWZ |
| Nantes | France | NTE |
| Newcastle | UK | NCL |
| Norwich | UK | NWI |
| Nuremburg | Germany | NUE |
| Oslo | Norway | OSL |
| Ostend | Belgium | OST |
| Palma Mallorca | Spain | PMI |
| Paris | France | CDG |
| Port Elizabeth | South Africa | PLZ |
| Prague | Czech Republic | PRG |
| Prestwick | UK | PIK |
| Pristina | Kosovo | PRN |
| Reus | Spain | REU |
| Riyadh | Saudi Arabia | RUH |
| Rotterdam | Netherlands | RTM |
| Sana'a | Yemen | SAH |
| Sarajevo | Bosnia and Herzegovina | SJJ |
| Seychelles | Republic of Seychelles | SEZ |
| Shannon | Ireland | SNN |
| Sharjah | UAE | SHJ |
| Skopje | Macedonia | SKP |
| Sofia | Bulgaria | SOF |
| Southampton | UK | SOU |
| St Petersburg | Russia | LED |
| Stavanger | Norway | SVG |
| Stockholm | Sweden | STO |
| Strasbourg | France | SXB |
| Stuttgart | Germany | STR |
| Tblisi | Georgia | TBS |
| Tehran | Iran | THR |
| Tenerife | Spain | TFS |
| Tirana | Albania | TIA |
| Toulouse | France | TLS |
| Turin | Italy | TRN |
| Valencia | Spain | VLC |
| Vienna | Austria | VIE |
| Vilnius | Lithuania | VNO |
| Vitoria | Spain | VIT |
| Warsaw | Poland | WAW |
| Yerevan | Armenia | EVN |
| Zurich | Switzerland | ZRH |
| Kandahar | Afghanistan | KDH |
| Karachi | Pakistan | KHI |
| Kolkata | India | CCU |
| Kuala Lumpur | Malaysia | KUL |
| Lahore | Pakistan | LHE |
| Male | Maldives | MLE |
| Manila | Philippines | MNL |
| Melbourne | Australia | MEL |
| Mumbai | India | BOM |
| Nagoya | Japan | NGO |
| Nanchang | China | KHN |
| Nanking | China | NKG |
| Ningbo | China | NGB |
| Osaka | Japan | KIX |
| Perth | Australia | PER |
| Peshawar | Pakistan | PEW |
| Phuket | Thailand | HKT |
| Qingdao | China | TAO |
| Shenyang | China | SHE |
| Shenzen | China | SZX |
| Singapore | Singapore | SIN |
| Suzhou | China | SZV |
| Taipei | Taiwan | TPE |
| Tanegashima | Japan | TNA |
| Tianjin | China | TSN |
| Urumqi | China | URC |
| Wenzhou | China | WNZ |
| Wuhan | China | WUH |
| Wuxi | China | WUX |
| Yantai | China | YNT |
| Zhengzhou | China | CGO |
| Zi an | China | SIA |
| Ziamen | China | XMN |
| Hobart | Australia | HBA |
| Huangpu | China | ZMY |
| Hyderabad | India | HYD |
| Islamabad | Pakistan | ISB |
| Jaipur | India | JAI |
| Jakarta | Indonesia | JKT |
| Kabul | Afghanistan | KBL |
| Kaimana | Indonesia | KMG |
CARGOMASTER DOOR TO DOOR FREIGHT WORLD-WIDE
CARGOMASTER DELIVERING AFFORDABLE INTERNATIONAL FREIGHT SERVICES

AIR CARGO CHARTER
INTERNATIONAL AIR CARGO WITH GLOBAL INDEPENDENT NETWORK

INTERNATIONAL AIR CARGO
EXPERTS IN AIR CARGO, SAME DAY AND OVERNIGHT AIR CARGO AUSTRALIA WIDE

AIR CARGO AUSTRALIA
DELIVERING HIGH PERFORMANCE AIR CARGO SOLUTIONS
INTERNATIONAL LOGISTICS EXPERTS
POPULAR INTERNATIONAL FREIGHT ROUTES
CargoMaster cares, offering peace of mind and expert advice with all international sea freight services and air freight services:
Economic and competitive international shipping PROVIDING COMPETITIVE INTERNATIONAL FREIGHT COSTS
Experienced consultants available for advice in relation to shipping heavy equipment
Experienced a highly trained, and qualified, customer focused team
Moving Containers available from Australia worldwide
International freight network of established freight forwarders
Technologically advanced 'HI TECH' solutions
Track and trace options
Comprehensive door to door freight insurance protection
With experienced and friendly staff available call now TEL 1300 767 136 AUSTRALIA WIDE